A Stress Free Dinner Party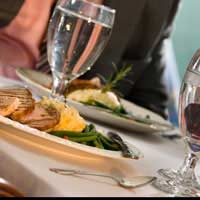 It might seem hard to believe but yes, you really can enjoy your own dinner party! There are some cardinal rules that you need to follow to guarantee a good time and low stress levels. Let us give you an inside guide.
Impress but don't Stress
It's natural to strive to be the perfect host or hostess. But it isn't always necessary. Guests will be the stressed ones if they have to deal with a harried host so try and keep your own stress-levels under control.
One way to do this is to keep the dinner party informal. Gourmet catering, impeccable place settings and a smart dress code can be discarded and a more relaxed and comfortable format can be the order of the day.
Plan Plan Plan
If there is one rule to hosting a stress free party, it would be to prepare as much as you can in advance. Plan the menu, buy all the ingredients in advance, get help from the local wine merchant on what you should serve, think about what you are going to wear and try to allow as much time as possible.
Before you launch into preparations, think carefully about the numbers you want to invite. Eight people is just about manageable but any more will stretch your resources to uncomfortable levels. It might mean that you have to be ruthless with the invitations but trust us, the social discrimination will save your sanity!
Fake it to make it
In the ideal world you would perhaps prepare your courses from scratch but in these fast-paced times, we don't always have a whole day to devote to food preparation. It's perfectly acceptable to include a "fake" item in your menu so don't be afraid to set your sights on a menu that will work for you as well as your guests.
Pre-packaged ingredients or even those completely prepared courses can save valuable time. It will also let you breathe easier and release you from the kitchen so that you don't have to spend the entire party tied to the oven.
Think about making use of items like pre-made puffed pastry, bottle and powdered sauces and frozen vegetables.
Keep the end in Sight
It might be tempting to lay on a large spread for your guests but there is simply no need to go overboard on the number of courses. Keep it to three, a manageable number. A few well-prepared dishes are much better than a handful of shoddily prepared ones.
As well as keeping the quantity to manageable levels, keep the dishes themselves simple. If you are new to dinner parties, do what you are comfortable with. Don't experiment with a wildly ambitious dish you picked out of a Michelin-starred chef's cookery book. Simple flavours often give the impression of confidence in the kitchen so don't be afraid to reduce the amount of ingredients and concentrate on only serving a few top quality ones.
A salad of avocado, mozzarella and fresh tomato drizzled with herb infused olive oil is a strong opener, salmon fish cakes with a spicy coulis and vegetables is a hearty main and a gourmet vanilla ice cream with a pre-made chocolate sponge will be a popular dessert.
Don't be stressed over the thought of feeding your guests until they are full. It's a frequent worry that you might not have enough food to serve but cast that fear aside. A stuffed guest doesn't necessarily equate to a happy guest and you don't want them to regret having eaten with you.
Mistakes Happen
If, despite all your best efforts, a mistake happens, stay calm. Keep perspective. Most people will not even notice that the food has not been prepared as originally intended. Just try and remedy it as best as you can and if that isn't possible just laugh it off and let your guests in on the problem.
All in the presentation
Keep presentation in mind. That doesn't mean that you have to consult Debretts to turn out an acceptable place setting. Bring out the best tableware and cutlery that you can find and arrange it in an aesthetically pleasing way. Put some fresh flowers or a plant in the centre of the table, light some candles and let your guests choose where to sit so that you don't have to stress over the place settings.
Recap
Keep the party relaxed and do what you can. By all means, put the effort in but take the shortcuts available to you and try and make the night as enjoyable as possible for all.
You might also like...