The Themed Dinner Party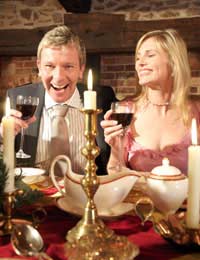 Anyone can throw a dinner party. It takes imagination and panache to carry off a themed version. Get some ideas on how you can do it in style.
Why Bother?
Dinner parties can sometimes be formal and full of expectation placing undue pressure on the host and raising the stress-levels to an uncomfortably high level. Themed dinner parties take such pressure away and replace it with the fun factor.There are lots of different themes out there and the choice can be overwhelming. We have narrowed down the options for you and have provided you with some creative assistance.
A Place in Time
Journey back in time and hold a dinner party with a historical theme. You can be as inventive as you like here. Austin Powers fan? Go all out with the costume and some 70s cuisine. Fancy creating a Grease theme? Go for hoop skirts, cardigans, leather jackets and a burger and milkshake combo and you are halfway there! Here is one other idea which can work for all ages:
Medieval
This is a true themed dinner party that should give your guests the royal treatment. Send out paper invitations with old-fashioned writing and slightly singed edges, to your guests. Don't be afraid to add some "here ye's" to the copy to let them know exactly what to expect on the night!
Decorate the dinner table in medieval fashion. That means metal plates, spoons, two pronged forks and metal goblets. Get the kids to create some heraldic banners which you can hang from the ceiling and eschew electric lighting for candles and metal or glass lanterns.
Get some background music going and start on the food. Medieval food was big on meats so roast a chicken and serve that as your main dish with a few modern day additions like honey glazed carrots or asparagus. Sliced apples, French bread and a cheese dip are good starters that your guests can nibble on whilst you prepare the main. Alternatively a hearty vegetable soup with crusty bread is easy to prepare and theme appropriate. Delicious wine or sparkling apple juice is the finishing touch.
Wish you were here
Some of the best themed party ideas come from far away; those countries you visited on holiday or those places where the cuisine is just too tempting to resist. Basing a theme around a nationality is a great idea for those parties where you really want to embrace the theme. The food, dress, music and décor can all take on the chosen theme and transport the guests to another world!
Bollywood
Few can resist a good curry and an Indian theme is ideal. Bollywood is all about lively music, bright fabrics and an uplifting ambience. To ensure that the night takes off, get shopping! Get some background music from the World Music section of the local CD store, pick up some incense and head to an Indian clothing shop for some saris. They can often be picked up for only a few pounds and these colourful fabrics will transform your entertaining room.
One of the best things about a Bollywood theme is that everyone, from meat eaters to vegetarians, can get in on the action. Curries are easy to prepare in advance and all you need is two large bowls to store a meat or fish and vegetarian version. Start with poppadoms and some mango chutney dip before launching into a chicken curry with basmati rice. A simple ice cream, or kulfi, will calm the spiced up taste buds, as well ice cold beer which you should have on tap!
As well as encouraging your guests to dress up in Bollywood dress, have henna tattoos and bindis available for a bit of decorative art and when your guests have enjoyed the curry and beers, crank up the stereo and try and transform them into Bollywood quality dancers!
Greek
We have all had Italian or Spanish themed meals, but a Greek dinner party might be unchartered waters. It's a great theme and one that can make for a lively gathering. The food can largely be based on mezes and this way of eating is extremely sociable.
Turn your room into homage for all things Greek. You need only two colours to do this – blue and white as per the national flag. A bright blue tablecloth with white plates and candles is a good start. Create place setting cards for your guests based on Greek gods and goddesses and let them decide which character best describes them.
Meze is a big part of Greek culture and luckily for us, it is very easy to cater for guests in this way. Warm pita, hummus, tzatziki, olives, feta cheese salad, stuffed vine leaves with rice and vegetables and a drop of ouzo will get the party started. The main course can be a lamb souvlaki, served with a healthy grain. For dessert, it has to be baklava, the sticky honey and nut treat which works well with strong espresso.
Thailand
You don't have to have been to Thailand to appreciate the delicious food that originates from this region. This is a dinner party for real foodies who enjoy fresh flavours.
Before you launch an attack on the exotic ingredients, consider the décor. Thailand is an exotic place so pick up some bright silk for a tablecloth, place small delicate candles in the centre of the table and on each setting lay an indigenous flower like an orchid. Pop a chilled-out CD into the stereo and dim the lights.
The food might sound challenging but Thai cuisine is fairly simple to prepare. Many of the ingredients are easily obtained in our general supermarkets. Kick off the party with something simple like grilled chicken satay, for vegetarians, tofu is the perfect substitute. A colourful main course like a yellow or green curry should be next and serve with either plain rice or rice infused with rich coconut milk.
There are plenty of other themes out there: Mexican, Italian, Texan, Chinese, school dinners, pot luck...the list could go on. Whichever theme you pick make sure you really go for it. The food, decor and atmosphere should work to create a really special dinner party. Don't hold back and let your imagination run with your idea.
You might also like...