Mixing Different Age Groups at Parties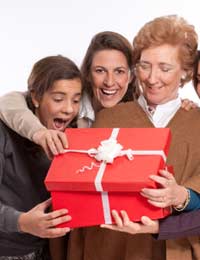 If you're planning to hold a party and invite a broad range of different age groups you'll need to think about the needs of every generation. It's no good having party with children and the older generation there and offering nothing but dance music, cocktails and canapés. Think about the needs of each group and make sure you try and offer something for everyone
Organising Activities
Giving guests something to do is always a fun solution, particularly for parties that include children. Children are easily bored and if mum and dad want to have some fun too, it's a definite plus if the children are engaged! Think about putting some games together, maybe hiring in some fun stuff like a bouncy castle or buying simple stuff like badminton sets, Swingball etc., or if it's an indoor party, arranging games such as musical chairs or a simple treasure hunt. Hunt the Thimble can keep small children occupied for hours! Remember you'll need someone to actually facilitate organised games so maybe ask for some help – as the host or hostess you're going to be busy enough and it's not realistic to imagine you'll be able to break off regularly to do games like Pin the Tail on the Donkey, or Blind Man's Buff. So offer other 'drop in' activities too, such as playing a children's film or offering a table with lots of fun creative stuff such as crayons, paper, stuff for sticking etc.
Adults need less entertainment, as they're usually happy enough to socialise and eat and drink and dance. But an adult treasure hunt is always fun, and fun casino tables always popular. Remember the oldies too... mostly they'll just need company, so make sure there's a nice quiet space for them if they want to sit and chat!
Think About Timings
Mixed parties require a bit of planning in terms of timing and the feasibility of attendance. If you plan to invite a wide range of guests but put your starting time as 8pm you can be pretty sure you'll lose a lot of guests. Parties for all ages tend to be through the afternoon, with children and the older generations falling away as the evening progresses, so this is a good option. Start early but assume you'll end up going on a bit later with those who want to party for longer
Offer Childcare
A really nice thing to offer parents when inviting them to a party, especially if they have quite small children, is child care. Depending on the number of children expected (and there are government guidelines about the ratio of childcare operatives to children), talk to your local nursery or babysitting agency about bringing in some support for the day. You can then offer peace of mind whilst children are playing, knowing they're being taken care of. It's a cost, of course, but if you can't really afford to pay for it all yourself, it's worth having a whip-round between all the parents. My betting is that for a bit of space and knowing their children are being looked after, they'll be happy to chip in a few pennies!
Plenty of Seating
This is aimed more at the older generation who just can't stand for too long without it being uncomfortable. Create nice spaces for them to sit and chat to each other and other guests and keep an eye out for children hogging the spaces!
Non-alcoholic Drinks
It sounds daft, but don't forget the soft drinks! Children don't drink alcohol and quite a lot of oldies will perhaps have a small drink but move on to softs... with parties, very often guests will 'bring a bottle' and it's easy to end up with a place full of booze and nothing but mixers. Lay in lots of fruit juices, fizzy water etc so that you can offer nice soft drinks rather than just simple jugs of water or squash.
The Right Foods
Again, as with the drinks issue, think about food. If you're offering nibbles remember everyone's taste. Children don't usually particularly like smoked salmon or more adult flavours and older people often struggle with crunchy or seedy food. Plan your menu to offer something for everyone
You might also like...