Host a Dinner Party for Single Friends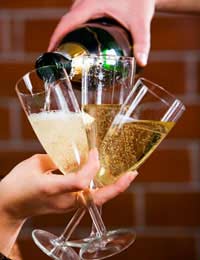 Hosting a dinner party for the benefit of your single friends could mean panic stations, and even something you've considered and then dismissed as just too scary to even contemplate!
Once you've agonised over inviting them in the first place (will they all be convinced you're trying to set them up?) and written and re-written at least ten different guest lists (an odd number just simply won't do, but do you include yourself on the list to keep it rounded?) and then, finally dished out the invites (whilst having inward terrors that someone will suddenly announce they want to bring a date) you might, ultimately end up wondering if it is really all worth it!
But hang tight. It is! And even if you don't manage to play matchmaker (because admit it, you are kind of hoping some of them will get it together, aren't you?!) you're all still sure to have a brilliant evening!
Planning the Event
The key to a successful evening is to make sure you invite a good mix of people - it can be a fatal mistake, for example, to invite all the singletons from your place of work or your night school class. Why? Because all they will do is talk 'shop' e.g. whatever it is that is familiar and comfortable to them and it's unlikely anyone will leave the dinner knowing any more about the person sitting next to them than they did before they came. Except perhaps that they do/don't like olives!
Conversely, do not invite a whole bunch of complete strangers who only have you in common! If you do, you might just find your attention being vied for all night, and utter silence every time you leave the table. Better to invite some people who perhaps have some friends or interests in common but who do not usually have the opportunity to socialise together or know each other from existing groups or places of work.
Interesting Introductions
Introduce people to each other as soon as they arrive and make reference to the person or persons they might know; for instance, if Sally and John do not know each other, but both know Anne from work, or Dave from the drama group, then make reference to it, as they then both immediately have a person in common. If conversation doesn't seem to kick off from this starting block, you could get things rolling along by asking John to tell Sally how he knows Anne/Dave - conversation usually flows easily from a very simple point leaving you free to greet your other guests!
Go with the Flow!
If you find that the chatter has dried up - and even in groups where everyone knows each other this can happen! - then have some 'ice breakers' ready to trip off your tongue! "Did anyone see Big Brother last night?" "Who's watching the new series of The Apprentice?" - pick TV shows or topics people will have an opinion on even if they don't watch them. Just avoid starting up a conversation about religion, politics or salaries!
Happy Ever After?
At the end of the day, remember, you are just having a few friends over who also happen to be single. Don't try to play matchmaker, tempting as it may be - these things seldom work out if forced! If there are sparks between people, leave them to ignite them! Only pass on contact details after the event if people specifically ask for them, and never, ever, suggest in front of two potentially interested parties that they should go out together, alone - that's for them to decide!
You might also like...