Keep the Peace when Entertaining Family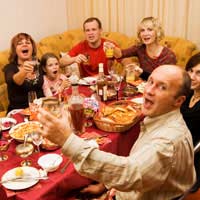 Ever feel like throwing in the towel when it comes to organising family parties and get togethers? Are there always mutterings of "Well I'm not coming if he is," and the heady scent of trouble brewing in the air?!
Large family events can be an absolute minefield of unresolved issues, deep rooted resentments and the inability to forgive and forget. Very few people have an extended family who can muddle along without incident, and when you are organising a special occasion, old feuds and rows can threaten to disrupt the entire event. So how can you persuade errant members of your clan to keep a lid on their feelings for the duration of the party?
Forewarned is Forearmed!
A gentle chat with those who you think might be most prone to kicking off could be all it takes to keep the peace. A quite murmur, casually executed, along the lines of "I know you and X don't exactly see eye to eye, but I'm sure you'll both want to keep the peace for X's party..." could do the trick with minimum embarrassment and confrontation.
If any mention of previous skirmishes are likely to set the wheels firmly in motion for a reprisal of the battle, some reverse psychology could be in order. Feigning concern about 'other' members of the family reigniting old squabbles, and how you simply will not tolerate it, could plant the seed firmly enough in the would-be trouble makers mind that any hint of a blow up will not accepted.
He Said...She Said...
Some people just can't help themselves when it comes to gossiping and talking behind other people's backs. Unfortunately, events like weddings, christenings and big parties provide the perfect environment for gossip-mongering - people moving from table to table, circulating between groups. Idle chit chat is natural and, in most cases harmless, but if you know that they'll be a certain someone whose intentions are far from honourable as they move from table to table dropping none-too-subtle hints and innuendo, then you might want to have mechanisms in place to nip it firmly in the bud.
If there is one person who is likely to be the source of any outbreaks of descent and they simply have to be invited, assigning them a series of 'babysitters' could help minimise their opportunities for mischief making. Most people will be more than aware of the person's troublemaking ways, so putting a discreet word out to 'Keep an eye on Uncle George' could help steer the wayward relative out of trouble and keep him/her on neutral ground!
The Demon Drink
If you know any brawls or fallouts are most likely to be alcohol related, then you could lesson the chances of out-of-control drinking by putting some restrictions in place. Make sure plentiful supplies of drinking water are available on all the tables so guests can alternate it with their alcoholic drinks. If you are having your event in a hotel or function room, have a cash bar rather than a free one - providing your guests only with their welcome drink or drink for toasts, and then expecting them to pay for their own subsequent beverages will limit the amount people drink.
If all Else Fails...
If the worse case scenario happens and a rumpus does occur, act quickly to stop it turning into a spectator sport and a free for all. Move the people involved away from the main party area and ask them firmly to stop or leave. And if you know beyond doubt that certain people will almost certainly cause a problem, the wisest decision of all could be to leave them off the guest list, and hopefully shame them into better behaviour in the future.
You might also like...