A Wine Buying Guide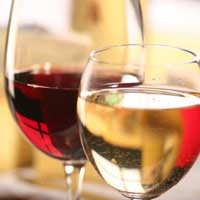 Wine. If you don't know your chardonnay from your pinot grigio that word might strike fear into your heart.
As the host, you will be expected to serve wine at your dinner party and it better be good. Giving your guests the next best thing to vinegar will not do. If you are clueless when it comes to grapes, let us give you the low down. Before you know it you will be giving a sommelier the run for their money.
Rule Number 1
Buying a good bottle of wine is not as easy as picking the best looking bottle off the shelf. Sure, the bottle might be pretty and the label might evoke images of glorious Californian sunshine but that doesn't mean it is going to appeal to everyone's palette. And lets face it, if you are serving a below average vino, the last thing your guests are going to remember is the look of the bottle!
Rule Number 2
Pay attention to the label. The more specific the region on the bottle, the better the wine is likely to be. For example, a bottle that is labelled from Frascati is better than one that simply states that it originates from Italy. The reason for this is that there are certain regulatory restrictions on the former.
Rule Number 3
Some regions are famous for producing certain wines. Pick a bottle from an area which is famous for wine production then the chances of it being bad is low. Keep this in mind if you see a Tuscan Chardonnay on the shelf or another unfamiliar combination! That's not to say it is going to taste necessarily bad, but the odds will be stacked against you! Keep to the golden wine-producing rules and you should be safe.
Rule Number 4
The alcohol level says a lot about the type of wine you are buying. If you wanted to serve a light-bodied wine with your main meal at your dinner party, look for a label that says 10% or less. Anything between 11-12% is categorised as medium-bodied and anything higher than 13% is full-bodied. This is quite important. A hearty steak goes well with a full-bodied red and you will get full marks from your guests if you follow this basic principle.
Rules Number 5
If you are on a budget, steer clear of aged and rare vintages. Petrus is going to be off your shopping list but a good quality and fairly young sauvignon might be on it. Head to the supermarket or wine merchants and look for the good value bottles.
Rule Number 6
Buying in bulk is good. If you buy wine in large quantities you are generally able to get a better value deal. If you live near a vineyard consider making a trip with an empty boot. Otherwise a packaged wine often offers a good deal.Some of this advice might have sounded elementary and basic to you. But it just shows that the world of wine is not a highbrow secretive one that you have to be afraid of.
Remember, if all else fails, sample your chosen drink and judge for yourself. If you like it, the chances are your guests will too.
You might also like...