Hosting Your First Dinner Party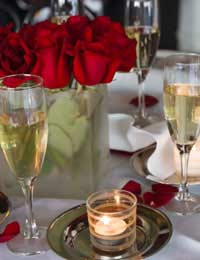 It's a nerve-wracking prospect, hosting your very first dinner party. If you have given it any thought you will be aware that hosting a successful one depends on a variety of different elements and there is an awful lot of remember. This short guide is meant to give you an insight into how to plan your very first and very successful dinner party.
Planning Ahead
There is a lot you need to consider as part of the planning process.
What type of party do you want to hold?
How much time do you want to spend in the kitchen?
How many guests do you want to invite? What will the menu be?
How many courses do you want to make?
How formal do you want it to be?
What is your culinary skill?
Considering all of the above is important. The thing that makes or breaks a dinner party is the menu and that is perhaps why hosting your very first dinner party is such a big deal. The important thing is to keep everything realistic: if you are not a culinary genius don't try and emulate a Michelin starred chef.
Simple does it so keep the menu uncomplicated. Fresh flavours actually give the impression of culinary confidence and skill so your guests may be fooled into thinking that you are in fact a natural in the kitchen. A simple starter of salmon and rocket salad with a marinated chicken breast and fresh vegetables for the main course is one menu idea that will make your guests happy.
Beyond RSVP
Once you have invited your guests and you know the numbers its time to draw up a list of action points. You might not be a natural list-maker but do trust us, this is a wise move. The action list should detail what you need to buy, when you need to buy it and how you are going to fit everything in on the day itself. This is the only way to avoid suffering in the kitchen all night and it will give structure to your preparation, avoiding the blind panic.
The Details
It goes without saying that you should try and do as much as you can the night before. This is an especially good move if jobs such as marinating can be done in advance. This is also a good opportunity to prepare a cold dessert that you can simply store in the fridge until it comes time to serve. Something like tiramisu or a cheesecake are two top options that are also relatively easy to make. Doing as much as possible in advance will allow you to concentrate on the main course on the night itself.
Get the table ready. Doing this the night before is a great time-saving tip. Get the vase ready for the flowers, put the CD in the stereo, choose your lighting arrangement and get your outfit laid out so that you can spend the minimum amount of time running around.
On The Night
When your guests start arriving, welcome them. Even if they are your nearest and dearest, greet them at the door with a smile and have a drink ready to serve. This will help set the mood for the evening and ensure that absolutely everyone is relaxed, including you. After all, if your guests are happy, you will be happy.
If the dinner party is quite informal and you have quite a lot of cooking to do on the night itself, don't be afraid of inviting your guests into the kitchen and getting them to help. Believe it or not, this can be fun and it will take the stress and pressure off of you, allowing you to interact with your guests and keep to your schedule.
Having your first dinner party is a big deal. The important part is the planning. Do as much of this as you can but don't be alarmed if things don't go exactly to plan. Dinner parties are meant to be enjoyable so keep smiling and if all else fails call out for a takeaway!
You might also like...