Easy Menu Ideas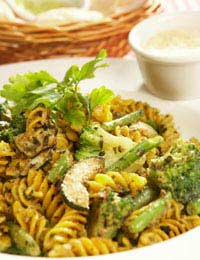 Having friends over does not have to be stressful. Take the pressure away and realise that not everything has to be Martha Stewart perfect. Menus do not have to be extravagant, the decorations don't have to be ludicrously expensive and the entertainment doesn't have to be brought in from outside. All parties should be fun. Look below and get some ideas on how to make the menu as easy as possible.
Welcome Snacks
When your guests arrive it is customary to greet them with a drink and a snack or two. Elaborate hors d'oeurves are not required. A bowl of kalamata olives, a bowl of mixed roasted nuts or seeds and a bowl of vegetable chips are simple and cheap to serve. All you need to do is provide the bowls and pour!
The Main Course
This is the time to serve the real food but don't fall into the trap of wanting to serve a complicated dish that will leave your guests seriously impressed. By all means go ahead if you are an accomplished chef. If your priority is ease of preparation then consider some of these menu ideas:
Pasta with garlic and seasonal vegetables - this is a meal ready in less than 30 minutes. Purchase some good quality seasonal vegetables, sauté them with the garlic whilst the pasta is on the boil. Throw the two dishes together, adding some fresh herbs and Parmesan cheese to finish.
Grilled fish with green salad and tomato salsa - fish can be ready in as little as ten minutes and all the other ingredients here can be purchased pre-made. Brush the fish with olive oil, sprinkle with salt and pepper and grill in the oven. Combine on the plate with a green salad and place a serving of spicy salsa on the side to add flavour to the overall dish.
King prawns with coconut rice - add four or five king prawns to a skewer, drizzle with a mixture of lemon juice and olive oil and grill in the oven for about 10 minutes. Boil the rice, drain the water and add a small amount of coconut milk to the mix, peppering with coconut pieces if necessary. Serve with boiled green vegetables.
They are countless other options of course. A traditional steak and chips will appeal to the carnivores; a spicy curry will prove popular for most guests or a classic and homely roast chicken that any chef worth their salt should be able to prepare. All are easy and they can all involve minimal cooking time for the host.
Desserts
Desserts are essential. For many they are the highlight of the meal. One dish that is easy to build on is ice cream. Choose a flavour like vanilla and dress with extras. Add honey and chopped nuts for a variation on the traditional Greek yoghurt dish. Sprinkle chopped strawberries and melted chocolate for an indulgent dessert.
Other sweets you might like include fruit skewers or a classic cheese board. Add a range of chopped and peeled fruits onto the skewers. They are a refreshing end to a meal and appeal to most guests.
The cheese board is similarly popular and extremely easy to prepare. You can buy a selection of biscuits and cheeses and they just need to be served attractively with a bunch of grapes and a glass or two of port or rich claret.
All in all, creating an easy menu is within anyone's reach. Choose top quality ingredients and keep the overall picture simple. There is nothing wrong with serving minimalist and classic dishes that taste delicious. Look at the plate - are there are more than four colours on it? You have probably gone too far. With cooking, more is not always better. Remember that and a successful dinner party will be yours.
You might also like...