Conversation Do's and Don'ts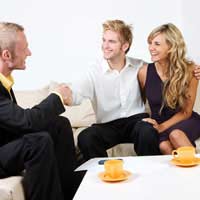 For many of us the thought of attending a social gathering and making small talk with strangers is a nerve-wracking prospect. It can be extremely difficult to enter a room full of strangers and engage in a conversation. But it doesn't have to be so hard. There are a few survival techniques that you can adopt to turn these burdensome social occasions into networking opportunities.
Breaking the ice
The first step is arguably the greatest. Approaching someone and opening the conversation can be difficult. What should you say? For one, you should keep the subject matter light-hearted and general. Don't dive in there with a political question or a personal remark about their clothing. This is a high-risk approach and the receiver may think you aggressive or just plain rude!
Staying non-controversial and non-offensive to all might seem a tall order but it really isn't. There are some easy icebreakers that the most nervous guests would be able to mutter and which are guaranteed to get a response. Here are some examples:
How do you know Sarah (hostess)/James (host)? - This short question will immediately give you into a brief background of the other person and will allow you to introduce yourself.
What do you do for a living/Where do you live? - These general background questions will perhaps uncover some common ground. If not, asking the other person about their lives is a sure-fire way of ensuring that a conversation starts - people are always happy to talk about themselves!
It's all about momentum
What might be even scarier than opening a conversation is having it grind to a halt. It is therefore important to play your part and keep the momentum of the conversation going.
Be prepared! When the other person is talking don't get distracted and let your mind drift off. Listen to what they have to say. It makes them feel important and it also allows you to store vital information that you can later use as conversation ammunition.
We have already mentioned that people like to talk about themselves and this is very true. You may find that even the shyest person at the party is happy to chat about their lives. If you ask questions, not only does it reinforce the fact that you are listening but it will help make them feel special and comfortable.
What not to do...
Of course, some of us are confident speakers. We don't mind approaching new people and finding some common ground for conversation. However, just as it is considered rude to sit back, with arms crossed and stay silent, it is equally, if not more of a social crime, to be too inquisitive and too friendly. Here are some helpful tips to ensure that you do not cross the conversational line.
There is a saying that famously suggests that sex, politics and religion are topics to be avoided at all costs in social situations. Judge for yourself whether your party is an appropriate forum to air your views on any of these. Unless it's a small gathering of very close friends, it is unlikely to be. Stay appropriate to the surroundings.
Asking questions is good. This we know from the previous section. Interrogation, to the point of nosiness, is however, bad. Try not to fire questions at the other person. Some people don't want to go into great detail about their work or their private life so take the hint if you see signs of reluctance.
If you have a clash of opinions on a subject, don't just ridicule the other person or raise your voice and argue with them. Whether it's a dinner party, a drinks gathering or an industry-related networking event, an argument is guaranteed to disappoint and confuse everyone else in the room. Remember, its social acceptable to have a friendly disagreement, a near violent warring of minds is not as fun.
If, after speaking to the person(s) for a few minutes, you want to move on, don't, whatever you do, leave mid-conversation. This is hurtful to the other party, who may think they have either offended or bored you. Bring the conversation to a gradual end and excuse yourself to go off and mingle with the other guests. If you enjoyed speaking to them and it's a networking event, give them your business card and suggest a future meeting. If you have something in common, suggest chatting later on during the party. Alternatively, if you really were bored by their conversation, be polite, say that you enjoyed meeting them and wish them well for the remainder of the party.
The rundown
Here is a quick summary of what we have talked about above. These are just a few of the key points that you should keep in mind when attending your next party:
Do's
Be open - crossed arms and a scowl will not endear you to anyone. Smile, walk tall and make eye contact with other guests.
Listen - if you don't listen to the conversation occurring before you, you won't be able to contribute.
Look interested - if you pay attention to what they are saying you will be more able to read their body language. Don't roll your eyes, look at your watch or let your eyes wander mid-conversation. This is a giveaway of distraction and very rude.
Speak up - if the music is loud, you will have to increase your own voice volume. Equally, if you can't hear the other person ask them to repeat. Nothing is worse than nodding with a smile to a comment and then finding out that it was actually a very sad statement. Getting them to speak up will avoid this faux pas.
Dont's
Don't be a wallflower - you may be shy or you may be tired, but resist the temptation to sit in the corner on your own. You will get so much more out of the event if you chat to a few people and it's easier than you would imagine.
Don't rush - although it is very honourable to want to speak to everyone at the party, rushing all your conversations will not be rewarding for either you or the other attendees.
Don't interrogate - this isn't Newsnight, it's a party, so aggressive questioning will have your conversations ending quicker than you thought possible.
Don't drink to excess - drinking can be socially dangerous. Secrets can be confessed, insults can be dished out and arguments can be started. Bear this in mind when you go to the bar for your fifth drink of the night.
So there you have it. Making conversation at a party should not be an ordeal. It should be fun. Keep smiling and keep friendly and you will find that any self-conscious falls away as soon as that conversation gets going.
You might also like...