Great Budget Wine Ideas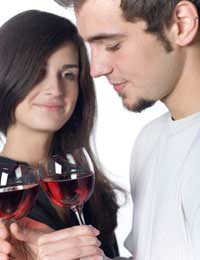 We all know that some bottles of wine can cost a small fortune. What many of us don't know is that there are some gems out there that will give you change from a £10 note. Get our lowdown on some of the best budget wines on the market.
Bargain Hunting
France Spain, Italy, Portugal, Chile and South Africa are spoilt for choice. In these countries there is a plethora of good quality and well-priced wine. The good news is that today's global market allows anyone to enjoy their home-grown grapes. Here is the rundown of the best that these nations have to offer.
France
There are hundreds of small vineyards in France, annually churning out deliciously cheap wine. It would be impossible to list them all here but we can give you some useful advice. Skip the big names and go for the quieter ones. Bordeaux, Cabernet, Merlot and Chardonnay are wonderful wines but they tend to demand high prices.
In your local supermarket look for Shiraz, Malbec, Sauvignon's and wines from the Loire and Jura regions. They may be less fashionable than their counterparts but they are drinkable, cheap and often share the same rich flavours.
Red:Maison Legrand Malbec 2005 – approx £10 per bottle.
Le Shiraz Veritable VDP OC 2003 – approx £8 per bottle.
Spain
Rioja is Spain's award-winning and much loved plonk. However, the reputation it has garnered over the years has meant that it can demand a fairly high price. There is some good news for the bargain hunters – some impressive reds and whites are growing in competing areas. Looks for Penedes – an affordable white – when you are next in the wine aisle.
Red:Case de la Ermite: Joven Organic Monastrell 2004/2005 – approx £7 per bottle.
Italy
Italy is packed full of wine producers and some fantastic vines. Steer clear of the Chianti's and Barolo's that tend to crowd the shelves. Instead look for southern Italian wines from the likes of Puglia or Sicilly.
White:Di Tasso Sicilian Bianco 2005 – approx £6 per bottle.
Red:Pillastro Primitivo Oak-Aged 2005 – approx £7 per bottle.
Chile
Moving further afield, Chilean reds are full bodied and full flavoured and best of all, they tend to be on the affordable side. The country produces great Shiraz wines, with the trademark flavour of ripe black fruits which can leave change from a £10 note. This is a great dinner party option as it often tastes more expensive than it actually costs!
Red:Vina Tarapaca Cabernet Sauvignon 2004 – approx £6 per bottle.
White:Triunfo Sauvignon Blanc 2005 – approx £7 per bottle.
Australia
Who hasn't served a bottle of Jacob's Creek at a dinner party? Wines from this region tend to be dependable in terms of taste and equally as dependable in terms of value for money. The main centre of wine production happens in and around Victoria and New South Wales and the quantities produced with each harvest are huge. Here are some of our recommendations:
White:D'Arenberg – The Money Spider Roussanne 2004 – approx £8.75 per bottle
Red:Andrew McPherson's The Full Fifteen 2005 – approx £6 per bottle.
Start perusing your nearest wine aisle or retailer and get tasting some of the world's finest and cheapest bottles. It's a tough job but somebody has got to do it!
You might also like...