Innovative Ways to Entertain Clients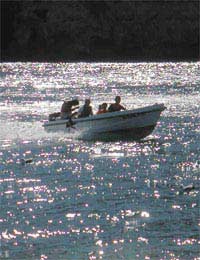 If your job requires you to entertain clients you can probably organise a golf day with your hands tied behind your back. We've come up with a few ideas that you might not have tried, some for the boys and some for the girls, so you can tee up something a little bit different.
Grape and Grain
A wine, ale or even whiskey tasting event is a great client entertainment idea for business guests of any level of seniority. The laid-back but civilised atmosphere will encourage discussion and give guests the opportunity to network while providing a great conversation topic for those looking forward to a more sociable evening. Perhaps not so conducive to morning after productivity, you might plan events of this sort towards the end of the working week.
Sail Away
For those more adventurous clients, why not consider organising a sailing event? Lots of companies specialise in occasions like this, from yacht racing to fine dining aboard a luxury vessel. This type of event is great for breaking down barriers and building relationships, particularly when guests can get involved and learn something new. You'll also be treating your clients to a truly unforgettable occasion, one they might not have the chance to repeat.
Pampered People
One for the ladies, a spa package will give your female clients the one thing they can't buy – time to relax. An event like this at a luxury location will be a real treat, and there should be lots of time over lunch for conversation, perhaps eased with a little champagne! It's a good idea to book somewhere tried and tested so you can be sure of the quality of the treatments offered. Also check whether there are any pregnant ladies on your client list as some treatments will need to be tweaked accordingly.
Virtual Reality
If golf events have worked well for you in the past, but you need to plan an occasion suited to clients who don't have a whole day to spare, consider booking a slot at a virtual driving range. The latest in technical golf wizardry, these venues supply food, drink and fun while your guests fire off the balls without having to remember golf shoes or worry about their less than impressive handicap. Potentially more popular with male clients, this is a golf event for all abilities, and it's also conveniently weather-friendly.
Tea for Twelve
Afternoon tea at a top quality hotel makes a great impression on guests and is a particularly good idea for a ladies event. There are so many venues to choose from that you'll have no issues with budget or geography, and the setting will be civilised and quiet enough to foster good conversation. Whether you're looking for something very dressy or a little more informal, an afternoon tea event fits the bill very well. Opt for a champagne tea if you really want to impress.
Whatever you choose to do for your next client entertaining event, if you know them well, try to match the occasion to the personality of your client or the nature of their business. Putting a little extra thought could earn you a lot of extra success.
You might also like...