Entertainment Ideas For a First Date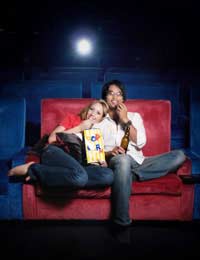 First dates can be nerve racking affairs and in many respects, completely un-plannable, no matter how many tips or advice your other single friends give you! Whether you are hooking up with someone you've met through an online dating service, an old friend-turned-love-interest, or somebody completely new, finding some fun, low pressure, entertainment is key to a great night out!
Where to Go?
If you are suffering from a bout of nerves or the jitters ahead of your date, and it has fallen on your shoulders to organise the venue, think carefully about where you choose! The success of your date hinges in many respects on you being able to relax and enjoy it, so don't put yourself in a position where you feel uncomfortable or out of place in your surroundings. Are you after a small, quiet place to chat and get to know each other, or somewhere busy and bustling that will take away the pressure of constantly having to make small talk? Would you be happy to go somewhere you are familiar with, or where there would be people you already knew, or would you be more comfortable in a completely new and neutral location?
Food for Thought
Meeting in a restaurant for dinner is one of the most obvious choices of first date venue, yet for many people, it is the one that fills them with the most dread. If eating in front of someone you barely know does completely throw you off kilter, then don't be worried about saying so! It is not unusual at all to feel self conscious about slurping spaghetti, getting glued to pizza cheese or choking on lamb chops on a first date and for that very reason many couples prefer not to have dinner straight away! And of course, it will give you something to laugh about as you scoff your way through three courses on a later date - "And to think I was so worried about eating in front of you..."!
Dance Fever
Nightclubs are great for meeting people in initially, but not quite so suitable for having an intimate date in! If you don't want to talk, then fine, but if you'd rather get to know your date rather than just watch them trip the light fantastic, then a nightclub might not be your best venue. (Unless of course it has a swanky posh VIP room you are flush enough to hire out so you can chat to your hearts contents in peace and quiet then move on out on to the dance floor.)
Day Time Dates
In the main, a day time date has none of the high octane pressure of a night out - be it a picnic in the park, a light lunch, a visit to a gallery or a trip to the cinema, there's something about the day time that passes by all the angst generally associated with night-time liaisons! However, for those very same reasons, it perhaps lacks the intensity of an evening out - so depending on what you want from your first date, it may or may not work for you!
You might also like...