Added Extras That Make Your Dinner Party Different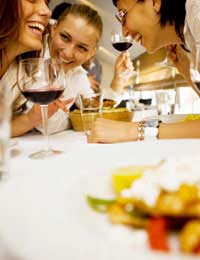 Having people over for dinner is one of life's pleasures. Planning and preparing the food, enjoying the company of friends in a relaxed environment and enjoying home-cooked food together. Dinner parties are all about conviviality and sharing time together, but can range from being very informal – a jug of sangria and massive plate of paella to share – to a more formal occasion, with separate courses, formal seating and a clever menu.
Planning And Preparation
Top of your list to think about is food. Plan your menu carefully, taking into consideration issues like whether you have vegetarians, or people with intolerances or allergies. Think about how the food will taste as you work through the courses, and make sure your menu is balanced. For example, if you have a heavy meat terrine and loads of toast as a starter, you're unlikely to want a meaty stew for main course.
It's generally a good idea to cook meals you've done before. You want food to arrive in style so try not to get carried away with the odd glass as you're cooking! When thinking about dessert, always offer cheese and as an alternative, as not everyone has a sweet tooth.
Don't pile your guests' plates high with food. Err on the side of caution and put side dishes such as the vegetable or potatoes on the table for guests to help themselves, serving only the main component on to the plate.
Dinner Party Etiquette
It's unusual these days for dinner parties to be very formal, but there are some rules that will help your event run smoothly. Greet each guest in person as they arrive, and ensure you spend time chatting with them before diving into dinner. Introduce guests who don't know each other, and ensure you include something in the introduction that will help open conversation. When seating guests, it's a good idea to have a seating plan, as offering a choice may make guests a little awkward and they will often end up sitting with their partners. When it comes to late guests, wait no more than 15 minutes after the drink reception part, or your meal will spoil and your other guests will grow hungry!
Wine Options
Make sure you choose wines that match your foods, and get advice from the wine shop if you need to. Think about what to suggest to guests if they ask what to bring, as many will do. Don't ask everyone to bring white to go with the starter, for example, then find you don't have enough red for the main course!
Your Invitations
Get off on the right start with your invitations. An informal kitchen supper with mates is likely to be organised by phone, but there's something really thrilling about receiving a proper invitation to dinner through the post. It's such a rare thing these days and really makes the recipient feel special. It doesn't have to mean your dinner party is formal, it just shows you've put some thought into it.
Dress Your Table
Your guests are going to spend the majority of their evening sat at a table, so make sure it's a lovely place to sit. Think about using flowers to dress the table, and perhaps using candlesticks, but make sure your guests can see each other across the table. Flowers in small vases or goldfish bowls and low level candles work better than tall vases or candelabras. Table confetti can be fun, especially for a special occasion dinner, but equally important in setting the tone is your choice of table linen, crockery and glassware.
Tidy Up!
You'll feel better and so will your guests if your house doesn't look like a bomb's hit it. More than anything make sure the bathroom and toilet are clean and free of anything potentially embarrassing – for you or your guests!
Get The Music Right
Banging house tunes might be great for a drinks party but won't lend itself to ambient conversation over dinner. Consider putting together a suitable playlist on your iPod, or getting together a collection of chilled background music
Have A Theme
Get creative with your dinner party by having a theme. Think of one that works well with a menu that's easy and clear to create – a French theme, for example, or maybe Spanish. You can run your theme all the way through from invitations to arrival drinks and the food on the night. Again, think about your table dressing, your music and of course your outfit!
You might also like...