Holding a Themed Event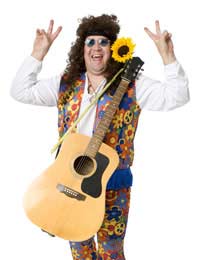 Sometimes a really good way to add a bit of pizzazz to an event is to give it a theme. Depending on the kind of event and the type of guests you have, you can make this really fun, totally stylish or completely daft – what you think you can get away with will be completely down to you!
How to Choose Your Theme
The best way to start is to begin by thinking about the event and the reason for it. For example, if it's a 40th birthday party, with the birthday boy or girl having been born in the 70s, maybe a 70s theme is a good one. Is it a wedding? Fairytale themes work very well for this, but equally it could be something personal to the bride and groom. Christmas parties? Excellent for creating winter wonderlands or the tales of Narnia. Have a look at your event and see what you think might work well.
How to Theme
This can be done in a variety of ways and can range from a full event build creating a total design scape, to simple touches here and there to give an overall feel. It all comes down to budget.
If you want to go all out for a full theme with props, set design and production and costumes etc, and you're not an interior designer, it's probably well worth engaging the services of an event management company to do this job for you. They will be able to work to the budget you give them and present you with the outline proposal which you can then fine tune to suit your needs. They can bring in stages, marquees, giant props, costumes, lighting etc to bring your dream to life. But it can be expensive, so be prepared for that.
Doing it yourself can be great fun though and depending on the theme you choose, you can draw elements into your event quite easily. Start at the beginning with the invitation. Does it represent the kind of theme you're planning on for the event? Getting guests to dress up will make a huge impact on it. Look for touches like dressing for tables, table centres and fun props you can find in silly dressing up shops. And the good old pound shops are perfect for finding odd gems to throw in the mix. A seaside theme for example could be as simple as having sticks of rock and chocolate pebbles on the tables, and sand on the floor. Be creative
Getting the Music Right
Setting a theme will have all the more impact for ensuring you have the right music. It's no good having a masquerade ball and playing loud dance music as people arrive. If you can't afford a string quartet, make sure you have some relevant Venetian style music to play as people arrive, for example. It needn't be on all night (after all, who could take a whole party with that kind of music!) but it's all about the impact on arrival
Think about the Food
Nothing brings a theme home quite like a themed menu. Sitting in Regency clothing and eating Regency food for example will really help to transport people to the right place. Talk to your chef or, if you're cooking yourself, do some research online to check out the right food. Drinks too – get the right cocktails for arrival etc. It will make all the difference
Working with Venues
If your event is at another venue that's not your home or office, be respectful of their space. Check that what you have in mind is OK before you start staple-gunning things up or laying down crazy flooring. You want to make sure you have it all approved before you start, or you could end up with nothing!
You might also like...