Throw a Golf Lovers' Party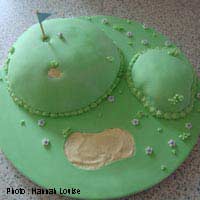 If you struggle to think up ideas to treat the golf addict in your life, look no further. Our comprehensive but simple guide to throwing a golf lovers' party, complete with dress code, menu and entertainment, will enable you to entertain and impress even the keenest player in the field.
Tee Time
Unless you need to time your golf lovers' party around a specific date for the man or woman in question, think about holding it around one of the major championships, like The Open, The Masters or maybe The Ryder Cup. If you're not sure when these are held, just find yourself a golf calendar on the internet. If you choose to bring in a Europe vs. USA theme to tie in with the Ryder Cup, bear in mind this tournament is held every other year and not annually.
Golfing Get-Up
No golf party is complete without a fancy dress element and it's easy to kit your guests out in some traditional golfing paraphernalia. Think flat cap, plus fours, diamond-pattern jumpers and the all-important golf glove. Looking the part is half the fun, and this is one game that really lends itself to some gentle wardrobe mockery. Golf clubs are optional!
Halfway Hut
Feeding a room full of hungry golfers might feel like a challenge but in reality they will be an easy lot to please. Design your menu along the lines of traditional halfway hut fare – simple but filling food to refuel those tired legs after nine holes. Score yourself a hole in one by rustling up some bacon rolls, sausage sandwiches and plenty of beer.
Course Conditions
Make your golf lovers' party extra special by organising a big screen on which your guests can watch all the action. You can also add to the occasion by pinning up pictures and photos of famous golfers, or perhaps your very own golfer in action. If you've got yourself a good one, remember to pin up press cuttings and strategically position any trophies around the room.
Fair Play
If you've fed and watered your golfing guests and the TV coverage is drawing to a close, it's time to play some games. Golf trivia and quiz books are easy to come by so hand a few around and let your guests take it from there. Alternatively, if you have the knowledge yourself, devise your own quiz. Start by asking people to name all the winners of The Open Championship since it began, or perhaps base some questions around the extensive preparations for The Masters at Augusta. Keep the beers flowing and you'll have a great game going in no time at all.
The beauty of throwing a golf lovers' party is its low maintenance simplicity. Also, if you're not really into golf yourself, this is a great chance to show support for the golfer in your life. You might not know your albatross from your eagle, but you sure do know how to show a group of golfers a good time.
You might also like...