Weekend Away Parties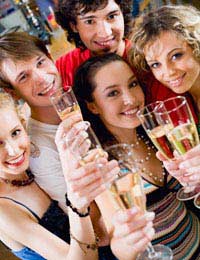 Sometimes just one night isn't enough! It might be that you're having a hen or stag weekend, or you might just have a spa break or be away for a birthday treat with friends, but having a weekend away as a party can be great fun and offer a real break from the norm.
What Kind of Weekend?
The first thing to do is decide what kind of weekend party you're looking for. There's a world of different options available, from skydiving and potholing, to golf, skiing, country cottages and spa weekends. The world really is your oyster these days and there are many companies offering packages for weekends away. These kind of weekends offer a really easy solution as all of your arrangements are taken care of without you needing to book the different components. But talk to the group – assuming it's you that's organising it – and get a general feel for what everyone wants to do.
If it's a hen or stag party, if you're the organiser then you're very likely to be the best man or matron of honour. Talk to the bride or groom to be, and find out what they want. It might be that you're just a group wanting a weekend away in which case it's all about consensus – but if it's someone's birthday for example, make sure you're booking the right options!
Location, Location, Location
Where are you going?! Can everyone afford to get there? Can everyone take that much time out? Have a think about where you're planning to be and make sure if possible that it suits everyone. With a group, it's always hard to please all of the people all of the time, but the best you can do is please as many of the people as possible. If you try to cover everyone you'll drive yourself mad. But certainly your destination will need to be something that suits as many people as possible, so check that bit out first
It's all in the Planning
As mentioned above, there are plenty of companies that offer weekend packages and they offer great value for money. As with anything, take a look at a few different companies to find out what's on offer and compare prices.
If you don't like the packages on offer, many of these companies will offer a 'build your own' service where you can put together your own itinerary, from picking the hotel and restaurants, to creating your own activities and planning your days. Again, these options work really well and companies like this can often offer great rates as they negotiate with suppliers and venues.
DIY Planning
You might want to put your own weekend together, and this can be fun but takes real planning and preparation – how much so depends on the kind of weekend you're after . If you're looking to have a quiet weekend in a country cottage with lots of walks and pub lunches, your job is pretty easy. But if you're planning a weekend in Prague with clay pigeon shooting and quad bike racing, your itinerary needs careful attention. Think mostly about transportation, that's a big issue. How are you going to get from A to B? How long will everything take? Keep clear notes about all your arrangements with contact details of all suppliers and hotels, so that you can put together your information easily.
Making sure all the guests have a good idea of what's going on will help too, and stop you being plagued with questions about arrangements. So put together a clear and detailed itinerary and brief for everyone that you can send out before you set off. Again, include contact information for any venues or hotels that you're planning on using, so that if they get lost or forget where they're going, they can easily check!
Staying Together and Staying Friends
It's easy, particularly after a few drinks, for groups to maybe struggle to stay together in a busy club or even to sustain that much time together and not have some kind of conflict – perhaps over who wants to do what or go where. For this kind of eventuality it's worth having some kind of strategy in place beforehand. Talk to the group in a light-hearted way about it and suggest ways of dealing with such issues democratically. And if you get lost in a club on your own – well make sure you've got your mobile phone with you but also, ensure everyone has their phones set for 'roaming' if you're going abroad
You might also like...