Throw an Engagement Party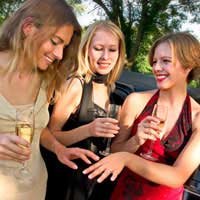 Congratulations on your engagement! Throw a party and indulge in the celebration before the onslaught of the wedding preparations begins! We give you the low-down on how to plan the perfect party.
To Have and to Hold?
No we are not questioning your wedding vows! Engagement parties are often held by the happy couple, but not always. Some of us cannot spare the expense of hosting a large celebration when the thought of budgeting for a wedding looms.
Well the good news is that engagement parties can be as modest or as extravagant as you like. The purpose of such a party is to celebrate the union of two people and not at all about the spread laid on by the hosts. Gather close friends and family members and let them share in your joy, whatever your budget.
Numbers
If there is money in the bank feel free to invite your entire address book. If you are thinking about inviting 100 people to the wedding then think about inviting those same individuals to your engagement party. The guests have a chance to bond in advance of the big day and you get to introduce as many of your friends and family members to your fiancé.
Don't be afraid to keep it intimate. Bringing together parents and best friends will make the party special. It will be even more so if you manage to keep the forthcoming nuptials secret until the party itself. Prepare for an emotional and memorable evening when you disclose the engagement to those closest to you!
Timing
There are two things to think about here. At what time of day should you hold the party and how soon should you hold it?
Evenings are a great time for engagement parties. Your guests will be inclined to be more romantic at this time of the day and this is exactly the kind of mood you want to evoke for an engagement party.
If you want it to invite lots of guests with children then think about having a late afternoon gathering. This works especially well in the summer when the younger guests can run around and the older ones can enjoy eating and drinking alfresco.
It's wise to give yourself some time to plan any party. Only the seriously accomplished hostesses have the ability to arrange a gathering "off the cuff". Play it safe and give yourself a couple of months.
Where?
Your choice of venue will very much depend on the scale of the affair. You could rent a local town hall or hotel reception room. Or you could keep it informal and host it at home or at your local favourite restaurant or pub. If you have given yourself two months of essential planning time then it should not be a problem securing your chosen venue. Once you have confirmed your choice, send out the invitations.
Invitations
Sometimes the bride's parents host the party. If that is the case the invites should come from them.
If this all sounds very formal, don't be afraid of indulging you and your partner's creative side. Send out invitations with a funny photo or illustration of the happy couple on the front.
In terms of timing, give your guests at least 6-8 weeks to RSVP and confirm.
Food and Drink
If you need direction on what to serve, think about the type of party you are hosting. If it is at a hotel reception room, catering may well be provided and guests will expect either an extensive buffet or a sit down meal. A party at home needs only fun, finger foods that are easy to serve. The buffet theme works well in this environment.
If catering is not your forte, splash out and hire a caterer. Get recommendations from friends and neighbours, try some taster menus and let someone else take this chore from you.
Champagne is the toasters choice so if you are announcing your engagement or asking that guests join in with a toast of best wishes and good luck make sure that there are plenty of drink and glasses for everyone.
Decorations
Engagement parties don't have to be so carefully co-ordinated or as tasteful as the Big Day. Don't be afraid to go overboard with novelty balloons and other ornaments.
By all means, devise a colour scheme if you want to but there are few rules for engagement parties. Something that might seem tacky at a wedding will be considered fun and festive at an engagement party!
Entertainment
You and your partner are the centre-piece of the party of course but when you cannot be with all your guests at the same time, you need a Plan B.
For a home-based party, lay on a CD player with some inoffensive music or coax a friend to DJ. If you are hosting a large event, think about hiring a live band or a singer. Contact entertainment agencies that will be able to provide you with sample recordings of the acts on their books and take it from there.
As with the decorations, an engagement party has few rules. Don't be afraid of doing something a bit different. Perhaps get two large pieces of card and ask both your male and female guests to write down their words of wisdom for the happy couple. They can make it as serious or as light-hearted as they want!
If you add all these ingredients together, give yourself enough time to get the mix right, you can rest assured that you will host an engagement party to be proud of.
You might also like...