Organising a Company Party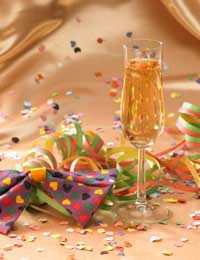 Organising a corporate event involves careful planning and specific details, which can be difficult to muster. However, if you receive the correct information and use the time you have effectively, the company party could be one of the best events ever. With a few essential tips you should be able to put together a well organised and successful party, so take these steps and then enjoy the praise you should receive from a triumphant party.
Ask Questions
Make sure you ask everyone from the temp workers to the managing directors what they feel will make a good company party. Make a list and come up with some ideas that might work well at the event. Once you have come up with some solid ideas bounce them around the office via email to get the reactions from staff. Once you have secured an idea that has been met with enthusiasm start planning the rest of the event.
Venue
The event needs a venue and whether you hold it at the office or a large elaborate setting you will need to prepare well in advance. The venue can depict the atmosphere of the party so ensure that you select a venue that suits the guests and whatever else you have in mind for the party. A small office room is not going to work if you have arranged dancing for the party. Always visit the venue before hiring, as you may not know what you are signing up for.
Entertainment
You may want to arrange some entertainment for the party and for this you will want to ensure that it is appropriate for the theme of the party. You should also check the entertainment out prior to the party to get a rough idea of the reaction from the guests. You may find a magician for very cheap but if you don't check and query them you may have just booked a magician that performs for children, which consequently won't go down very well with your colleagues or boss.
Event Management Companies
One of the best ways to organise a company party is to get someone else to do it. By this we mean through one of the many event management companies that are capable of organising a spectacular event or party for a very reasonable price. These companies often ask for details and preferences and get straight to work giving you the freedom to concentrate on other details. The price of a complete package is usually a very fair deal as most companies book venues at high volume and offer venues continuous business. The best way to get the best deal is to shop around and ask for quotes. Explain to the event organiser what you are looking for and ensure you include everything. You can also haggle a little with most companies so don't accept the first price.
The main aspects to think about when organising a company party are to identify the parties intentions and always allow yourself a reasonable amount of time to organise the party, as this will permit you time to rectify any crisis you may face in the process.
You might also like...