Make a Date With Your Spouse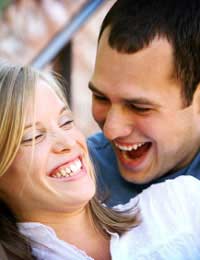 As anyone in a long term relationship will tell you, it can be a challenge to keep the magic alive between two people who know each other so well. A relationship isn't something you can neglect, and accepting that both parties need to commit to making it work is the key to keeping that spark between you. Making a date with your spouse as you did before you knew each other is one way to keep things fresh. Here are a few starters for ten.
Take Him Out
It's likely that the man in your life has at least one passion, aside from you. His fascination with football or golf probably drives you crazy but you can also get some great date ideas from the things that interest him. Why not buy tickets to his team's next match and show him that his interest is also yours (even if it's not – it's the thought that counts here)?
Him Indoors
If you're strapped for cash or just fancy doing something a bit more creative you could set up a dinner date in your own home. Sure, you cook for him every night, but you can theme the evening and the food in line with one of his passions. Think of a holiday you both really enjoyed and cook the food you ate while you were there. You can even decorate if you're feeling imaginative. Turn your kitchen into a Greek taverna or an American diner for the night.
Girls Aloud
There's a strange belief among men that women are hard to please, but this is not so. There are lots of great date ideas that you can easily bring to life for your wife or girlfriend. Think about her favourite pop group and surprise her with tickets to their next gig, complete with hotel and dinner. Find out what are her favourite childhood memories and recreate them, whether it's a night at a fairground or a playful afternoon at the seaside. She'll appreciate the thought almost as much as the date itself.
Would Like to Meet
Another fabulous way to surprise the woman in your life is to set up a date that recreates a moment from when you first met. Tell her to be ready at a certain time, pick her up (even if you live together) and take her to one of the first places you ever went together. You'll have a lot of fun reminiscing and she'll love the idea of getting dressed up for a mystery date.
These are simple but powerful ideas that would probably appeal to any couple, but the secret to making a date with your spouse is in the personalisation. We all love the idea that someone's thought hard about what would make us happy then gone to the effort of making it happen. Sometimes in a long term relationship that's easy to forget, but ideas like these can make all the difference. It's easier than you think to get from taken for granted to taken aback!
You might also like...