Throw a Baby Shower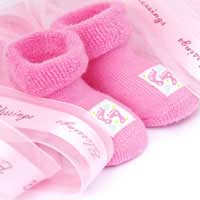 Once only the preserve of stateside new-borns, baby showers are now big business. This is the perfect way to celebrate the forthcoming arrival of a baby. Invite friends and family round and let them join in with the celebrations.
What is a Shower?
If the concept of a baby shower is new to you, then there are a few things you should know. A shower is designed to let friends and family spend time with the mother to be. It's not a frenzied or large party - they are meant to be intimate affairs that allow each guest plenty of time to talk to mum.
When are they Held?
Showers are normally held before the birth. At this stage, mum is still relatively calm and a social event can be held without interruptions from the new arrival. Some people prefer to hold the shower after birth. This is very common in certain cultures and there are few hard and fast rules.
Women Only?
Baby showers are often described as a female-only affair. They are portrayed as a chance for women to coo over little shoes and clothes. There is probably a degree of truth in this but these days, dad also gets a say!
Men-only showers, where dad gets to invite round his nearest and dearest are growing in popularity - after all, why should he miss out on all the fun?
Invitations?
A baby shower is a special occasion and as such warrants the issue of a formal invitation. As with other major social events you have two choices: buy a pre-made, off the shelf version or make your own.
All cards should be illustrated with a picture, portraying the joy and cause for celebration of a new arrival. If you are going down the DIY route, use light pretty colours and soft imagery.
Whichever you choose, make sure you include some basic details. You need to put the name of the guest, address, date and time of the shower and, if you want, the sex of the baby. The latter is an important gem of information for the guests and indeed for you, as it will have a bearing on the gift they bring with you.
What to Expect?
A baby shower is different to any other type of gathering so you might not know what to expect if you are hosting or attending.
The shower itself is not an all day or all night affair. It normally lasts a few hours and is commonly held in the late afternoon. Because of the timing, three-course meals are out of the window and small buffets or afternoon teas are in!
One of the strongest emerging trends is in fact to make it a tea party. Delicate macroons and the odd glass of champagne are served amongst cucumber sandwiches.
What about Entertainment?
The main focus of the party is mum. She is expected to play her role and circulate, spending time with each guest.
Games are optional and can be played. One suggestion is to "Guess the mum's tummy size "- this is a fun and easy game to play, as long as the mum to be isnt getting sensitive about her ever expanding inches! Guests are asked to cut a piece of string to a length that would fit perfectly around mum's tummy. The winner gets a prize!
Another way to pass the time of course is to open the presents. The guest will normally bring a gift to the party. Anything from a large bunch of flowers to a gift basket full of baby paraphernalia will be much appreciated.
A Small Thank You
Favours are increasingly used as a way of saying thanks to the guests. The mum to be should pass these out to each guest. They don't have to be expensive; a small box of chocolates or a set of creamy bath soaps will do the trick.
A selection of food and drink, little gifts for baby and the presence of you're nearest and dearest are the key ingredients for a winning baby shower. This is your time to celebrate something truly special so just make sure that you enjoy every passing moment!
You might also like...