Wedding Entertainment Ideas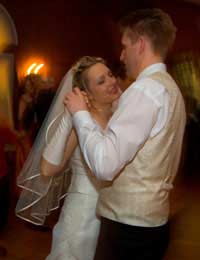 At the heart of the wedding reception is the entertainment. It's important to get it right and to make sure that your guests get into the party mood. We can take you though the options that are available to you. Read on and get the lowdown on some top entertainment ideas.
After the speeches have been made and the meal has been served the tables are pulled aside and the entertainment starts. By this time your guests will no doubt have imbibed on your complementary champagne and wine but you cannot rely on intoxication to deliver a great party. You need to deliver something more.
Boogie Down!
It's common to have a disco at a wedding. The type of music that is played is really up to you. Hire a DJ who specialises in weddings and is able to conform to your music tastes.
However, a word of warning before making that selection! You might, for example, love Led Zeppelin but the wedding party may not feel the same way! Make sure that you consider the age range of your guests and play it safe if you don't want to avoid any embarrassment!
Get recommendations of DJ's from other brides and grooms or from friends who recently had parties. Listen to some samples - any good wedding DJ should be prepared to hand this over when asked. If you like what you hear, book them straight away. DJ's are a popular entertainment option and you want to avoid disappointment.
Also make sure that you clear your chosen entertainment with the venue. There are often rules imposed at certain venues with regards to music volume and the time by which the merriment has to end. Avoid any arguments on the night and get their approval first.
Make it Live
A live band is often a more expensive route than a DJ but one that often pays off. A good band, used to playing and entertaining wedding crowds, will keep the party going as long as you want it to. There are lots of options out there. Hit a music agency website and listen to some samples to get a flavour of what there is to offer. A cover band that specialises in music from the 60s might be a popular choice, and one which would appeal to both Grandad and Grandson!
Alternatively go for a top quality impersonator. Hire a Robbie Williams and a Frank Sinatra for an interesting Rat Pack themed night.
The normal cost for hiring a band or a performer will be about £1500-£2000 and to avoid disappointment you should book in advance. Don't expect to secure your favourite a month or two in advance.
Consider how much space they are going to need in the venue, whether you have enough food to feed them during breaks in the set and what they are going to dress like. Make sure you brief them on what you want from the night. A good band will listen to your suggestions, incorporate them and judge the mood and age of the crowd on the day.
Other Ideas
As well as having music in the background for people to dance to, think about having other activities that people can join in. A chocolate fountain will draw the crowds with a sweet tooth and a mini casino with a roulette wheel and poker table will keep the gamblers happy! Such diversions break up the evening for your guests and will ultimately maximize their enjoyment of the night – which is, after all, what you want from a wedding reception!
So to recap think about the type of evening you want. Do you want your guests to hit the dance floor or would you like a more sedate affair with more traditional dancing? Make that decision and the entertainment options will be narrowed down for you. Whatever you decide to go for, have a great day and an even better night!
You might also like...