Throw a Party For 10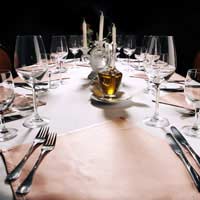 Small parties are intimate fun and are free of all the worries and hassles that large scale celebrations bring with them. With the numbers on the low side you can concentrate on the details and give your loved ones a night to remember.
Make a List
With ten people on the invite list you don't have to worry about getting things in place months before. You can dispense with such rigorous preparation with a party like this. That doesn't mean however, that everything should be spontaneous and last minute. A little bit of foresight and consideration will go a long way.
Here are some tips for what you should consider about a month before the big day:
Decide what kind of party works best for you and your guests: will it be a cocktail do? A buffet? A formal dinner?
Plan the menu;
Make your shopping list;
Make a list of other items you will need to have in stock: pans, bowls, plates, cutlery, types of glasses and napkins etc.
Plan Your Space
If you only have a small apartment or house, don't worry. There is nothing to stop you holding a great party. Take the plunge! Smaller living spaces can actually work in your favour, and make a party cozier but make sure that ten people can definitely fit comfortably within your home!
Create more room if you need to. Look for ways to free up more space for mingling, dancing and general moving around. Big plants and unnecessary items of furniture should be stored away for the night.
Don't stress about cleaning your home too thoroughly. Your friends are unlikely to scrutinise your home so keep things clean, but there is no need to scrub and dust every single surface.
Snack Attack
With a small group of people you can either provide them with some heart full-blown meals or lots of smaller dishes. The choice really is yours and it depends on how much time you want to spend in the kitchen. This is a party rather than a dinner party so you don't have to worry about endless food preparation.
There is no shame in putting some pizzas in the oven and some gourmet ice cream in the freezer. In fact your guests may appreciate that even more than any haute cuisine you might think about serving!
Cheers!
Get a variety of drinks together and perhaps even try your hand at mixing a few cocktails. Asks for requests or simply create your own concoctions! Mojitos and vodka martinis are great party drinks, although keep in mind that cocktail creation and the necessary ingredients often add to the overall cost of the party.
There are a few drinks that you should have on tap. Beer should be ice cold and in plentiful amounts, the white wine and vodka should be safely stowed in the chilled confines of the fridge with the quality reds airing at room temperature. Cola, both diet and full fat versions, lemonade, and a sparkling and still water should also be ready for consumption. Slice up some lemons and oranges in advance of the party – they make great garnishes.
Good Host Skills Wanted
With such a select group, the host's role becomes even more important. You may well find yourself very busy on the night. Keep the glasses topped up and keep the canapés circulating around the room.
If some of your guests are new to the group it's your responsibility to introduce them. If you can see that one particular guest is being excluded in some way from the conversation, try and edge them back in.
As well as judging the social interaction, try and assess the mood. If things are winding down before you want to, crank up the music or dim the lights slightly to add a sense of occasion to the proceedings. You don't want the party to finish early. Apply the same principles when you want the party to come to a gradual end – turn up the lights and turn down the music so that the energy levels are brought down.
Drinks? Check. Food? Check. Enough room to accommodate your guests? Check. Hostess skills fine tuned? Check. Now you are ready to host a great, intimate party.
You might also like...