Girls Night In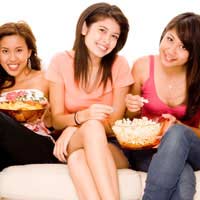 It has been said that that sisterhood can be extremely powerful and no where is this more apparent that when inviting your closest female friends round for a girly night in.
Carrie and co may have left our screens for good, but a glamorous night is still within reach. Cocktails, delicious food and a lively atmosphere are the essential ingredients required for that perfect night in with the girls.
Extravagance is Everything
When it comes to hosting a girly night in there is only one rule that you have to remember: the sky is limit. If your budget will allow, pick up the best food, drinks, and surprise gifts for your guests. If financial constraints do apply, use a little imagination. Below is an outline of some great ideas to get that party off to the best start possible.
Sweetness and Light
The type of food you choose to serve could be anything from light and low calorie sushi morsels to indulgent comfort food. Feel free to judge the menu according to the time of the year. Wintertime calls for the heavy and carbohydrate-laden dishes whereas summer calls for salads and other fresh dishes.
If the purse strings are tightening, don't be afraid to get your guests involved. Ask them to bring their favourite dessert with them. When it comes to the last course, everyone will be spoiled for choice.
Cocktails with Sass
Do your research. Ask everyone who is planning to attend what their favourite tipple is in advance of your night in and then get preparing a selection of two or three cocktails.
The classics are normally the safest bets, particularly if you neglect to do your homework. Names to remember are the Cosmopolitan, the ultimate Sex and the City drink, the Mojito, for some zesty Cuban zing and the always popular Champagne cocktail, which is both effortless and classy. Provide at least one non-alcoholic option for those non-drinkers or for anyone who wants to sober up before home-time.
Hidden Extras
The special touches will make all the guests envious of your entertaining abilities and who wouldn't want to have such an accolade? It might seem silly, but indulge your inner little girl. Think about providing each guest with a fun gift. Head to the local toy shop and pick up some affordable silver tiara's that you can get guests to don as party hats. Sprinkle some foil scatter stars on the tables and use floral or pink dishes to serve the food on.
If you want the mood to be more upscale, pick up some ribbon or tulle and tie a delicate bow around each seat for each girl, light some sweet scented candles around the entertaining rooms and put on the right music for the night, perhaps a soundtrack from an Audrey Hepburn film.
Alternatively have a themed party like a spa night. Make up spa goodie bags for each guest with face mask and body scrub sachets and mini pedicure kits and give out on the night to a very appreciative audience!
Do Me a Favour
End the night with a round of complimentary favours. It doesn't have to be a big gesture but an individually wrapped gourmet chocolate or even a copy of a glamorous magazine for each attendee will show your host credentials to their fullest and will ensure that the night leaves only happy memories.
Organising a girly night in is relatively fun and easy. Let your imagination run wild and prepare to indulge both yourself and your guests.
You might also like...