Create The Right Party Mood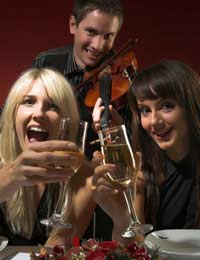 Decorating your home for entertaining need not mean balloon and gaudy tablecloths. Find out how you can make a tasteful impact on the big night.
A Glam Entrance
Before your guests even get down to the business of eating the main course and partying you want them to feel a sense of occasion. Do this as early as you can. From the moment they see your front door to the moment they sit at their allotted space at the table, you want to convey your exceptional taste and the tone of the night ahead.
Litter the path to your home with candles. Of course the possibility of this will largely depend on the weather – too rainy or windy and the effect will be ruined. Get some large and small votives that can house the candles and preserve the lit flame. The trouble taken to do this will be well worth it. The effect is charming and far more memorable than a banner across the house.
If you are holding a themed party, make sure that the theme spills outside of your home. Halloween gatherings calls for lit pumpkins, children's parties call for balloons, streamers and a littered path of sweets. Just keep it original and convey the sense of occasion.
Meet and Greet
Every good host greets her guests with a drink. It officially launches the night. Hand them their wine, champagne or juice glass on their arrival but give a unique twist. Tie each glass with a different coloured ribbon. Not only does this identify the owner of the glass but it is also a touch that is original as much as it is pretty and memorable.
As they walk through your home, let your guests be wowed by a display. The hallway is the perfect place to put an opulent, scented display. Get a large glass vase and place an impressive flower display in the middle. Scented tea-light candles around the base of the vase add to the effect.
The core of your party is likely to take place between your living and dining rooms. Make sure that the lighting is kept flattering and that you give some unique touches to the interior. Silver paper streamers hanging from the ceiling give a fiesta flavour. Tea lights should line surfaces to illuminate the room in a delicate way.
Set the Table
Any party requires food. You would be a bad host if you denied your guests some morsels! Whether it is a dinner table or a buffet table, make the effort. Your interior should reflect the theme of the night.
Place a tablecloth over the table. If you want to create an opulent theme, place a rich coloured silk on top and litter with individual crystal droplets that will reflect the candlelight and look suitably elegant and celebratory.
Be Heard
Music is powerful. It can evoke memories and create the right mood for your party. If you are holding a sophisticated evening, let the music reflect that. Go for classical, popular mid-market tunes or something chilled-out like a Café del Mar CD. Likewise if you intend on holding a disco or other lively event, make sure the music fits the night – chart records or uplifting house music is perfect. Nights with a national theme call for a visit to the world music section of your local record shop to guarantee that your guests get in the mood.
Lighting, music and simple accessories are your weapons of choice for creating a mood to remember. Use them wisely and you will have a well decorated room that your guests will be seriously impressed with.
You might also like...