Party Games for Adults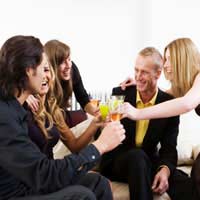 Have you ever been to an adult party where things are going along swimmingly then all of the sudden the party just seems to slow down? Everyone goes from laughing and talking to just nervously standing around, looking bored. This can be especially disheartening if it happens at a party you are hosting!
So what is the solution to get the party back on track? You can suggest a party game for adults. When people think of party games, Charades is often the first one to come to mind, but there are plenty of other party games to get everyone interacting and talking again.
Acronymantics
This game deals with acronyms (word formed from the initial letters of the words of a compound term). Only with this game, you have the acronym first, then you come up with the definition. You have a word and from that word, you must create a phrase made up of each letter of the word. You will need slips of paper and a pen. Write down several four-letter words such as RING, LEFT, HAND, PLAY, TUNE, HEAD, CALL, FLIP, CLIP, COIN, and STAY. Fold each slip up and put it in a basket or hat.
By assuming that each of those words is an acronym, you must then create the definition of the acronym. For example, RING could be "Richard Ingested Naughty Gophers." But, there are rules to the definition. The first player pulls the acronym out and contributes that first word. The first word must be a noun or the name of someone. The second player must contribute the second definition – a verb. The third player contributes the third word, usually an adjective. And finally, the fourth player contributes the fourth word, usually another noun.
The game will move much quicker – and be much sillier – if you encourage the players to give the first word that comes to their mind. This is a non-competitive game in which no one really wins, but it will probably leave everyone with the giggles!
Balloon Burst
This game will have the entire party rolling with laughter. You will need strips of paper, a pen, chairs, and balloons. Write down crazy things a person can do, such as get down on all fours and bark like a dog or sing "New York, New York" in their best Sinatra voice. Place the strip in a balloon and blow it up. Blow up four or five balloons, and then you are ready to start.
Arrange the chairs in a circle and have everyone stand in front of a chair. The balloon is handed to the first person, who must sit on it with their full weight for 3 seconds. You can even have the other guests count off the seconds. If the balloon breaks, the person must do whatever the strip of paper says. If the balloon does not break, keep passing it to the next person until someone breaks it and has to do whatever the slip of paper says.
Famous Name
A lot like Charades, Famous Names involves you acting out. You will need strips of paper and a pen. Each person writes down the name of someone famous then folds the strip up and puts it in a basket or hat.
Each person draws a name. Then, have the participants mingle around the room acting like the famous person whose name they drew. Each person can do a 30 second dialogue of his or her famous name and everyone tries to guess whom he or she is impersonating.
Mating Game
Again, this game is much like Charades with the participants performing. This game works best if you have at least six participants. You will need slips of paper and a pen. One person will write down the name of an animal on two slips of paper, and then fold them up. Place one slip in one pile (pile A) and the other in a separate pile (pile B). Keep repeating until you have enough slips for all those playing.
Divide the party up into two groups. Designate one person as the referee. Each person in the first group chooses a slip from pile A. Each person in the second group chooses a slip from pile B. After reading the animal's name on the slip, the person must then begin mimicking the movements of that animal, but cannot make any sounds. The object is to look around and try to find your mate - that is, the person acting like the same animal you are. Once you think you have found your mate, you must go check with the referee. If you are wrong, you must go back to the "zoo" to search again.
Party games for adults are a great way to perk up a party that is starting to wind down prematurely. Most games only require paper, a pen, and the involvement of your guests for you to have a roaring good time.
You might also like...