Boy's Night in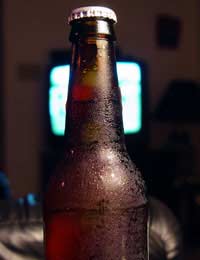 The time has come to invite your friends round. Essential ingredients are: the boys, some quality drinks, delicious food and some entertainment ideas that your girlfriend or wife would still approve of. Read on and find out how to host the perfect boy's night in.
Men are From Mars …
Unlike women, men seldom seem to invite their friends round for no other reason than to spend time with each other. Relocate to the local bar or pub and suddenly it seems more acceptable to spend time with your best friends.
The only time that this social rule changes is when there is a reason to get together - watching a special sporting event on the television or sharing a mutual hobby. In light of this fact we have given you some ideas on what to do when you decide to invite the boys round for a big night in.
First Things First ...
Although an impeccably tidy house or apartment is not what your guests will necessarily be paying attention to, you want to ensure that your place is more stylish bachelor pad than pig-sty. Make sure it is fundamentally clean, with all clutter hidden away from view and that there are no bad smells circulating. If you are a house-proud man then you can ignore this basic advice!
Get the food and drinks in. No matter what kind of event you are planning to hold, your guests will expect that food and drink will be supplied. They might bring something with them but this will be viewed as extra supplies rather than the staple item for the evening. Hit the supermarket and get a range of drinks - a couple of beer brands, some spirits like vodka and gin, and some wine alongside some non alcoholic drinks like bottled water, cola and ginger ale.
The type of food that you place in your basket will depend upon the tone of the evening. If you intend to have a very casual boy's night in with football and beer, the food should be carb-laden and in plentiful quantities. You could of course order a takeaway or you could just pick up some pre-made pizzas or some fresh pasta that can be mixed with a spicy tomato based sauce. If you intend to make the evening a bit higher on the sophistication scales, get some fresh fish or seafood and grill in the oven. Serve with a salad, or a baked potato and you have a hearty and healthy meal.
Entertainment
You can of course invite your friends round for just a good meal and a good conversation but if you want more of a themed, read on:
Beer tasting
It might be a bit stereotypical to think that all men like beer but the chances are that a lot of your friends will be keen on a beer-tasting night. It's a great idea but perhaps one to reserve for a night when you don't have to face work the next day.
Invite your friends over but make sure they are aware of their duties. Each guest should be prepared to bring a different six-pack. You can let them know which type of beer they should purchase to ensure that there is not duplication.
On the night itself, collect the beers from your guest and get the food served up. It might be a wise idea to serve something designed to line the stomach. Pizza or other carbohydrate dishes are a good choice. Then, whilst your guests are tucking in to the food you can start with the beer. Start off light in body and colour and move onto darker stouts as the night goes on. Make sure you have removed the labels or distilled them into separate glasses for a blind tasting and then get everyone to rate the beer. The results can then be revealed later in the night.
You may find that after the fourth or fifth beer that your taste buds are not quite as sharp. You may also find however that everyone, including yourself, is having a great time and that is the aim of the night.
Football Night
A midweek game, in the evening, is the perfect opportunity for a boy's night in. You can put in as much effort as you like. If you are fanatic of a particular team, decorate with team colours, if only to annoy your friend who supports the other side!
Make sure that the TV room has enough seating space and that all the chairs give a good enough view of the game. You might also think about having another area for halftime and for those guests who are not as keen on football as you are.
Halftime is likely to be food time so tear yourself away from the TV to allow enough time to prepare the main course. We have given some options above but perhaps consider making a big pot of chilli or if the weather is good, a BBQ. Its not a formal affair so whatever you give them make sure they can eat it on their lap.
Once the game is over, keep the drinks flowing and perhaps serve a dessert whilst the others chat about the football.
Sopranos Night
If you want to be sexist, women have Sex and the City and men have the Sopranos. The latter is the perfect theme for a boy's night in. Clear aside the evening, get the box set and get the Italian food on the go.
The key ingredients to this night are obvious: pasta, red wine and the television. It might not be the chattiest of nights but if you have a group of friends who worship the series as much as you do, you can guarantee a good time for all.
These are just a few ideas for a boy's night in. In all of these examples you will see that good food, good drink and some entertainment are key. Plan carefully, make sure that everyone is interested in the theme of the evening, sit back and enjoy.
You might also like...