Top Ten Party Bag Fillers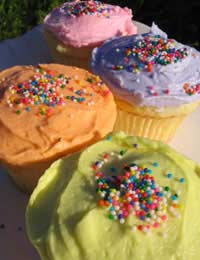 Giving party guests a bag on their departure is one way to guarantee your reputation as a great host. We have given a rundown of some of the best gifts you can use to fill them up. Inexpensive and creative they are all guaranteed winners.
Mementos of the Day
It doesn't matter whether your party has been held at home, at a restaurant or at a local hall, a small memento of the day will guarantee happy memories.
But what to give? If you have a Polaroid camera – get snapping! Take a picture of each child and place it in their party bags. On each picture you can write a little message to them, perhaps thanking them for coming to the party or a funny quip about what they were doing at the time. A photo like this is an original touch.
Let Them Eat Cake
How can you deny the party guests a slice of cake?
When you are serving the birthday cake make sure you keep enough back for the bags or be sneaky and prepare two separate cakes to guarantee portions for each guest. Wrap it up well to preserve it until home time and place at the top of the bag to prevent it being crushed in the excited rush!
Sweets and More Sweets
Birthdays are an opportunity for all of us to splurge a little. Children seldom turn sweets away. They are an affordable addition to the party bag. Rather than opting for fun size packets of branded sweets, get your child involved and get them to make their own. Peppermint creams are perfect. They are simply to make and taste delicious. Get the party girl or boy to make these the day before and place four in a small cardboard gift box in each bag. Here is a recipe to jog your memory of this confectionary classic:
Ingredients:
1 Egg White,
450g of Icing Sugar
A few drops of Peppermint Essence
Instructions:
Get your child to beat the egg white until frothy.
Sieve the icing into the mixture but be careful – you only want enough for a fairly stiff mixture.
Add a few drops of the essence and knead the mixture together.
It should be a firm paste. Cut into rounds and flatten.
Put them on baking paper and in a warm place to dry for 24 hours.
Once ready, store in an airtight container.
Toys Are Us
Small toys are always welcome. Hit your local toyshop and find an aisle home to some cheap and small toys. For girls pick up small money purses, for boys, cards. Bouncy balls, marbles, short mini books, pads, colouring pencils or a small packet of plasticine are all great ideas that will keep your bank balance intact and the guests happy.
Thank You for Coming
Giving each guest a party bag is one way of saying thank you for coming to the party. Adding a small thank you note from the child is an added touch that will show impeccable manners. It doesn't have to be a formal note. A simple gift tag, attached to each bag will be enough. Get the party boy or girl to write it out in their best handwriting. If they want to draw each child a picture to show thanks let them do so – but give them enough time to finish such a mammoth project!
Confetti
Adding confetti or small glittery shapes to each bag is a nice touch. As each toy or gift is pulled out a flurry of confetti will emerge from the bag and add to the excitement. This is a cheap but great way to show attention to detail.
For Little Ladies
If your little girl and her little friends are going through their girly phases, add a small child-friendly make-up item or nail varnish to the bag. These are widely available in toy stores and are dermalogically tested to ensure that they are not damaging to young faces. If this doesn't appeal or you are not sure if the other parents will appreciate the gesture, hair accessories like clips and ruffles will be appreciate by everyone.
For Little Boys
Skip the make up and hair accessories for the boys. Instead buy something that you know they will be keen on. Toy soldiers can be brought in bulk, add a few to each bag and let their imaginations run riot!
Sticker Happy
Stickers are a great choice. There is plenty of choice out there. Many toyshops have rolls of stickers in a range of themes; pick out a strip for each child and add it to each party bag.
A Cuddly Toy
Small teddy bears will appeal to any child under the age of 6. You can pick these up at any toy store or local general store and will be able to get them for about £2 each.
As you can see there are plenty of party bag fillers out there. What you want to put in will largely depend upon the age of children attending and the tastes of the children at that particular time. You don't have to put in 10 items of course – pick 4-6 and we guarantee that all the children will be grateful.
You might also like...