Kid's Party Invitations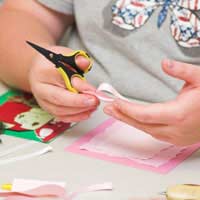 Anyone can buy a box of invitations but it is much more fun to indulge your creative side and produce your own. Here are a few quick tips that will give your children's party the extra edge!
Pick a theme
It's easy to pick a theme for a kid's party and it gives a steer for both the invitations and for the day's activities. Ask the little prince or princess what they would like. They might suggest anything from fairies to Harry Potter. Whatever their imaginations come up with, try and incorporate it onto the card.
Creativity time
The invitation should be eye-catching. Don't be afraid of trying something completely different to the commercial cards sold in your local stationery shop.
3-D
Ever thought about sending a 3-D card? No? Well it's easy. Get two pieces of card of the same size. Fold them both in half. Cut four slits along the folded edge of one piece before unfolding it and pushing out the sections - they should look like two raised steps.
On coloured card, draw and cut out shapes that tell the guest about the theme of your party. It might be cut outs of flowers, balloons or even astronauts - anything goes! Attach the cut outs to the steps of the card. You can write the message on the front of the card or inside.
Glimmer and Shine
Invitations can be as simple and as quick as they need to be. Get some pieces of card and draw outlines of shapes before getting the kids involved. Get them to cover the shapes in glue and add coloured glitter. Place confetti inside the card - it makes for a fun surprise for anyone opening it!
Printable Invitations
Your standard home PC will also allow you to create the perfect invitation. You don't need fancy desktop publishing packages either. A simple word processing programme, with some clip art, will get you noticed by the other parents.
Choose the page setup - panoramic or landscape - insert some images that you think sum up the party being planned and make use of text boxes with coloured fonts to add the key details. Then simply print and get the party king or queen to hand them out at school. Alternatively, if your school is not keen on the handing out of invitations during their time, email them to the parents.
More than just pictures
The invitation should be more than just a coloured piece of card. You need to include some details about the party itself. An invitation should clearly provide the party host's name, the day and date of the party itself, the start time, the location and some contact details so that the children's parents can RSVP.
Make sure you include any special information. For example, if you are planning on making it a fancy dress party, make it clear on the invitation. If you want parents to stay for the party you can state it on the invitation itself or discuss it with them when you get the RSVP phone call or email. This is worth considering because some parents might assume that you are going to look after their children for the duration of the party and you might end up as both hostess and babysitter.
A final piece of advice is to make sure that the invitations are sent out in advance. It's surprising how quickly a child's social diary can get booked up! Allow at least two-three weeks before the big day and you are guaranteed a good turnout.
You might also like...