Hold a Kid's Themed Party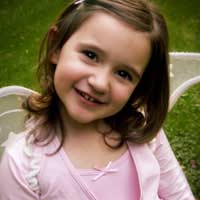 Make your child's next party stand out and give it a theme. Let you and the party girl or boys imaginations run wild and make it a day to really remember.
Little Girls
What theme to go for? It all depends on the age of the party girl and what she is into at that particular time. Here is one idea that you might suggest to her:
Fairy for Day
Fairy wings fairy cakes and magic spells. To little girls this will conjure up images of pretty costumes, dainty dancing and a chance to transport her and her friends to a magical world.
This is a fantastic theme and one that you can really indulge them in.
Get the invitations sent out at least four weeks before the big day. Let each guest know that it is going to be a themed party. Perhaps make the invitations a fairy shape or send each guest a pair of wings with an instruction that they must wear them to get entry!
The food, the décor of your home or party venue and the entertainment can all fit the fairy theme. Make the food light and pretty. That means sandwiches with the crusts removed, and plenty of little cakes. Pick up a little child-friendly tea set and serve the soft drinks or squash in it and scour local stores to find fairy themed paper plates.
Around the home, sprinkle fairy dust, or pieces of confetti on the carpet and in the garden. This might involve a little cleaning afterwards but the effect is well worth the post-party vacuuming!
Drape pink streamers and balloons around the rooms and keep everything pretty and girly!
Keep the mini fairies amused with themed games. Face painting and dancing competitions, where the winner is judged to be the most dainty, are a good start. Don't be afraid of resorting to entertainment stalwarts like twister, musical chairs or sleeping lions either – not everything has to be themed to perfection!
Other Ideas
Little ballerinas
Bratz tea party
Disco dancing party
Roller disco
Little Boys
It might sound stereotypical but boys are unlikely to be interesting in hosting a fairy themed party. They would prefer something sportier and something a little more lively. Here is one idea that you might like to adopt as your own:
Cowboys
A cowboy themed party is a great idea. As with the aforementioned fairy theme, you can really go all out, turning your home, the food and adopting costumes to give the flavour of the party.
Send out the invitations and make it clear what kind of party the guest will be coming to. Stipulate that it's going to be fancy dress. Get the message across by sending out an unusual invitation. A mini cowboy hat or an invitation in the shape of a cowboy will leave the guests in no doubt about the big day.
As the day approaches start thinking about the home decorations. Try and recreate a Texan ranch. If you have a garden and the weather is decent, distribute some hay and use hay bales for seating around an outdoor table. Perhaps look into hiring a bucking bronco. This will really impress the party guests!
A cowboy party needs hearty cuisine. A BBQ is a great option. Get corn on the cob, burgers, sausages and even steaks on the grill. Chunky chips and tortillas with dips will keep the hunger at bay whilst the little guests are waiting for their main courses to cook.
Dessert should be similarly hearty. Go for a classic apple pie with plenty of vanilla ice cream, although don't forgo the traditional birthday cake with candles! A cowboy themed cake is a must. Make it into a themed shape like a cowboy boot, a horse, or a cowboy hat.
As well as playing traditional party games, bring in some cowboy themed ones. If you have no bucking bronco, get hold of a piñata and encourage the children to try and get the sweets inside it. Pin the tail on the donkey is also a good game for the younger party guests – the closest to pin the tail wins a special prize!
Other ideas for boy's parties
Football frenzy
Astronauts and space
Robbers and policemen
Magic and party tricks
Before you choose your theme, ask your child what they would like. Go with their idea and use your imagination to make the party of their dreams happen!
You might also like...