I Survived a Dinner Party Disaster: A Case Study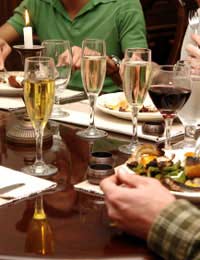 We've all heard disastrous dinner party stories: guests poisoned by the food, alcohol-fuelled rows, and a joint of meat that leaves the oven looking like it spent a week in a furnace. You name it, it's probably happened in a kitchen near you. We spoke to one hapless hostess who gave us all the gory details of her dinner party disaster first hand.
A Grand Plan
"My dinner party night from hell came as a total surprise", explains Camilla Bridges. From gastronomy to guests, Camilla's dinner party had been weeks in the planning and when the day arrived she expected nothing less than a perfect evening. "I'd tried and tested my menu and thought hard about where to sit everyone. There were ten of us, and though most of us were friends, there were a few people meeting for the first time – or so I thought".
An Explosive Impression
Camilla's dinner party disaster began before her guests arrived. "My dessert was a comforting old favourite, banoffee pie, something I knew everyone would just love. While I was making the toffee sauce, a friend phoned needing a shoulder to cry on, and that's where it all began to go horribly wrong." Camilla's conversation distracted her from the saucepan that was slowly boiling dry and it wasn't until twenty minutes into the conversation that she was reminded of the toffee sauce by what sounded like a small explosion in the kitchen.
Kitchen Nightmare
"I've never seen anything like it," says Camilla, "There was thick, boiling sticky toffee sauce everywhere I looked. From floor to ceiling, window to wall, it seemed to have got everywhere." Camilla's nightmare had only just begun. "Not really knowing where to begin, I started sponging off the walls, but to my horror the sauce just didn't wipe away – not without leaving a huge stain or bringing wallpaper with it where it had begun to set. Flustered and tearful, I decided to leave it all until it was cold and face it the next day. I actually had to redecorate in the end."
Guest Appeal
Dessert ruined and duly substituted with something a little less destructive, Camilla regained control and began to welcome her guests. "I began to relax once people started to arrive; I guess I thought that nothing else could possibly go wrong. How mistaken I was!" Among Camilla's guests were both couples and singletons, making for a good balance. What she hadn't known was that she was about to bring three people involved in a love triangle face-to-face.
Nice to Meet You
Camilla explains, "It was awkward to say the least. The temperature in the room fell by about twenty degrees, I'm sure. One of the guests had knowingly broken up her husband's previous marriage, so desperate was she to be with him. Little did I know that I'd managed to invite both the happy couple and the ex-wife! It wasn't long before the knives came out. The couple left after the starter, it put a terrible downer on the whole evening, but we had plenty to talk about!"
These are probably extreme examples of a dinner party from hell, but the moral of stories like this is that it pays to be attentive the smallest details. And buy dessert in.
You might also like...