How to Choose Wines for a Party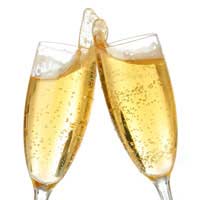 Wine and food each heighten the enjoyment of the other and there is a minefield of rules awaiting the dinner party host. They tell you when to serve the wine, how you must serve it and what you must accompany it with. This is daunting, not only for the first time host but also for the experienced one.
Take the pressure off. Swot up on some of the pairing rules but the best advice that we can give is to enjoy the wine you like. If you get it wrong you won't ruin a good meal - these things happen, shrug if off and rest assured in the knowledge that hardly any guests will even notice!
Wine Pairing Rules 101
The oldest wine and food rule out there is that white wine goes well with fish or fowl and red with meat. The aim is to achieve an effortless union of flavours.
That means that you should select light-bodied wines for light food and fuller-bodied wines for heartier dishes. So if you are serving salmon as a first course, think about pairing it with a light Pinot Noir. Steer clear of any fuller flavoured wines - they would simply overpower the dish and confuse the palette of your guests.
Analyse Your Menu
Most of us serve wine at a dinner party. Look closely at your menu. The flavours of those dishes you intend to serve are the clues to the type of wine that should be uncorked.
Serving Sweet Food?
If you are serving sweet dishes like a rich tomato sauce or honey glazed meats then you need a wine that will balance the sugar rush. Avoid serving a dry wine at all costs - it will clash with the food and leave a sharp taste. Go for an equally sweet wine - a Riesling will match the sweetness of the dishes and will work well.
Serving Acidic Food?
Acidic ingredients like balsamic vinegars and lemon juice drenched on fish can leave a strong and sharp taste. Go with wines that are even higher in acidic value - pick out a Sauvignon Blancs or a Pinot Grigios from the wine merchant.
Serving Bitter Food?
Rich green vegetables like spinach and kale can sometimes leave a bitter taste in the mouth. This calls for a full flavoured wine. A merlot, with its berry base, is a good choice for such dishes like this.
Serving Fatty Foods?
Intending on serving hearty steaks to your lucky guests? Even if you have a lean cut of meat there will still be oil flavour that needs to be balanced off. Give your guests a taste of a rich red like a Shiraz to mask any grease taste and give the meal a depth and richness.
Order Order!
As well as thinking about the type of wine you want to serve with each course, think about the order.
A three-course meal starts with a light introduction and graduates onto a heavier main. Wine should do the same. The lighter wines should be served first with the fuller flavoured and fuller bodied wines coming afterwards.
When you greet your guests with their introductory drink or course serve champagne or a light white. Then, once the first plates have been cleared away and the main course has been dished up, uncork the bold red. Note that this also means that the low alcohol wines comes first and the alcoholic content builds up as the meal progresses.
The next rule is that a sweet wine is only ever served last. Think about it - this is logical. Desserts are the final dish that we consume during a feast and they are the time when we consume a sherry or a saccharine sweet dessert wine.
Getting Complicated?
If all this is getting complicated and it is your first time at pairing wine with food there is an easy way out!
Many wine experts advocate the selection of the wine itself before you try and create the menu. You can follow the rules, avoid the pitfalls and choose the key ingredients like fish, meat and sauces.
If you are going to go down this route, pick something that you love to drink; a wine packed full of memories or simply packed full of a great flavour. Your insider's knowledge will also help you when you are trying to compile your menu.
There are numerous wine pairing rules that you can follow. But don't stress. The guidelines may be based on scientific principles but they are only recommendations. It all comes down to what you enjoy so keep that in mind and let your taste buds give you the verdict.
You might also like...