Cutting Back at Christmas Time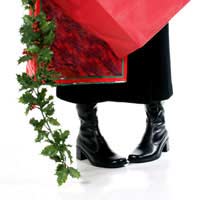 Just the thought of Christmas can send your bank account into negative figures. A combination of gift giving, family feasts and all the trimmings can add up to a tidy sum. If the concept of surviving Christmas on a budget has so far alluded you, don't fear. There are ways of cutting back and still ensuring that you and your family fully embrace the festive season.
The Run Up
If you are reading this in December, skip this bit. It will be too late for you and you are going to have to resort more inventive ways of saving money. Those early-bird planners however, can pat themselves on the back and can get to work right away.
It's never too early to plan for Christmas. Starting in January may be hard to imagine, but you might be surprised at how effective it can be. The sales at the start of the year are a great opportunity to get prepared. Buy cards, wrapping paper and small gifts that form the backbone of Christmas activities.
Think about squirreling away a small amount of cash each month. If you can, set up a direct debit to a dedicated savings account after each payday and come December you will be able to shoulder the cost of Christmas without fearing the arrival of the end of year credit card bill. It doesn't have to be a huge amount - anything up to £50 lays a good foundation for the end of year outlay.
Do Your Homework
Whether you are buying gifts or multi-packs of mulled wine, do your homework. Get on the computer and conduct a thorough price comparison to find the best deal for your pocket. There are specific price comparison websites that do a lot of the surfing for you and bring up details of the best deals.
Don't forget that major stores often offer significant discounts to online purchases. Register with the sites to receive periodic email vouchers and check the sites themselves regularly to ensure that you haven't missed any bargains.
To Give or Not to Give
Think of all your friends and all your family members. How many of them will be giving you a present this year? The number may be intimidating both in terms of potential cost and also in the time you are going to need spend trawling the mall.
To ensure that you manage this expense, create a budget and stick to it. Seek out unique presents that you know will be appreciated. Suggest the budget friendly Secret Santa gift idea between groups of close friends. This is both fun and allows every participant to stick to a budget - trust us, you won't be the only one watching their bank balance at this time of year.
There is also nothing wrong with offering a more modest gift, such as a platter of home-baked cookies. This is considered as a personal and quaint gift and the effort involved is always appreciated.
Of course, the little ones might not appreciate receiving a cookie in their stocking come Christmas Day. If you have children, reserve your biggest expense for them. They often have high expectations and although you don't want to spoil them, treats are deserved at this time of year. Buy small gifts throughout the year to fill the stocking and then ask them to select one present they really want - within reason.
Seek out the Hidden Bargains
At this time of year it is the small savings that can make a big difference to your overall outlay. Something which you should take advantage of is free gift wrapping. Many of the major department stores offer this as a standard service so grab it with both hands and you will have saved yourself the cost of wrapping paper, not to mention the time spent trying to grapple with sticky tape and ribbon!
The Main Course
Christmas dinner is the main event. This is the time when the family expects a feast and several hours are spent around the dinner table, tucking in. The only problem is that turkey and all the trimmings often involve a huge bill at the supermarket. There are ways round this.
Use your common sense. Don't buy the 18-pound turkey at the butcher's shop, opt for a crown turkey breast instead. This is cheaper and manageable and once it is sliced up and served up, no one is going to know the difference. Instead of using fresh vegetables, opt for frozen. Instead of offering guests two or three deserts, serve only one, the classic Christmas pudding, which is reasonably priced. Alternatively, break away from tradition and serve up a pudding that everyone will eat, like cheesecake or even ice cream!
This is the time of year to be merry and that frequently means a quaffing on fine wines and spirits. Well, you can keep your gathering seasonal and still keep the budget down. Mulled wine is the quintessential drink and is surprisingly easy to make. It only requires a few ingredients and none of them have to be the finest on offer - it tastes more or less the same whether you use the most expensive cabernet sauvignon or the cheapest. You will find the recipe in Classic Christmas Recipes.
These are just a few simple money-saving strategies that you can adopt to ensure that you are not left paying for Christmas months after the big event.
You might also like...